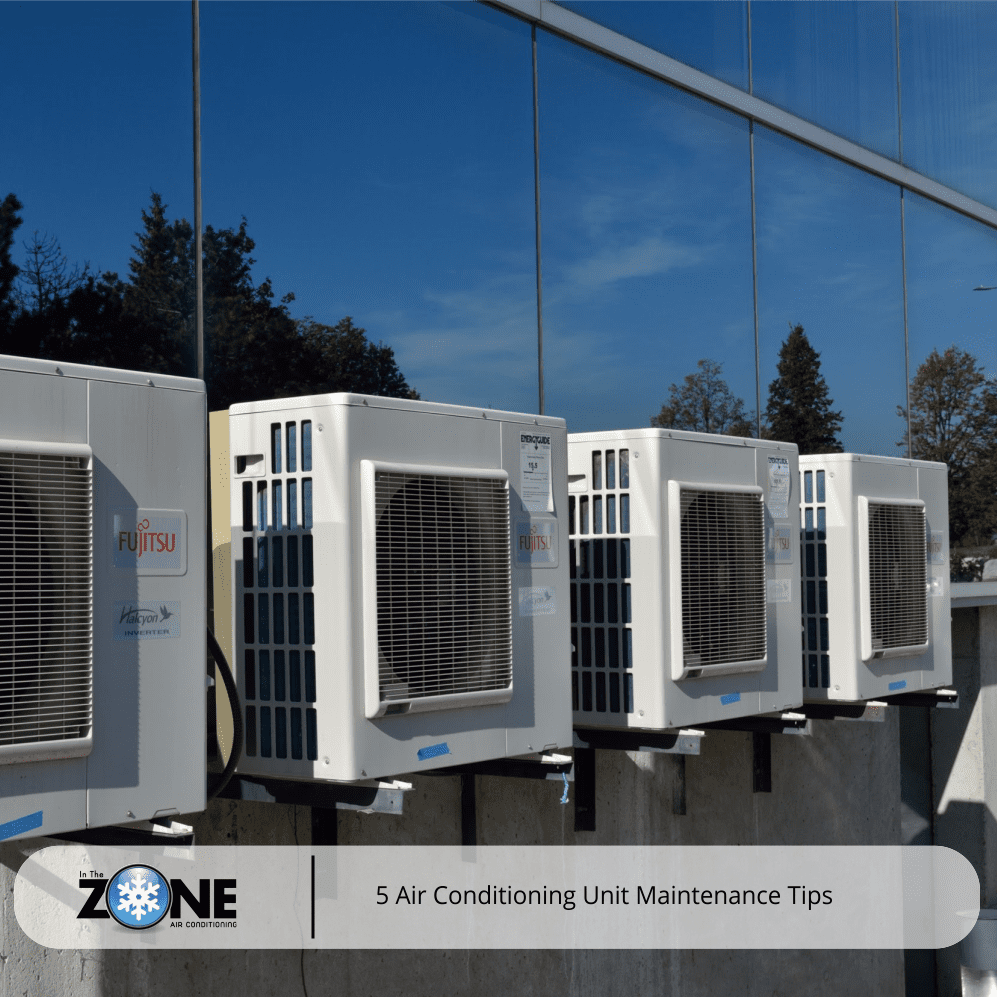 09 Sep

5 Air Conditioning Unit Maintenance Tips

An air conditioner serves a very important purpose and having one that is functioning and working well is important – this is particularly true in the warmer summer months when the temperature starts to soar. At ITZ, we believe that while an air conditioning unit should work at all times, there are a few important maintenance tips that can help to improve the efficiency of the unit and ensure that it can always be relied on.
How to Maintain Your Aircon: Step-by-Step
It is important to have the unit maintained by a professional on a regular basis, so keep reading the blog for 5 air conditioning unit maintenance tips that should keep it performing to a high standard.
1. Change The Air Filter
The most important maintenance task to complete is to regularly change or clean the air filter. Over time the filter can accumulate dust and dirt which will decrease airflow so that the system has to work harder than it needs to. You should change the air filter once a month during the summer when it is used often and just once during autumn, spring and winter.
Also Read Now: THE IMPORTANCE OF MAINTAINING YOUR AIR CONDITIONING UNIT REGULARLY
2. Test The Thermostat
You should not forget about the thermostat as this is a key part of any air conditioning unit and often an area where you can find faults. If you haven't already, consider upgrading to a programmable thermostat because it can give you greater control over your home's temperature while also allowing you to reduce your monthly energy bills.
3. Check The Condenser Unit Fan
You also need to regularly check the condenser unit fan and examine each blade – any signs of cracks or damage and they will need to be replaced. You can check the fan by switching off the power to the unit and then examining the fan while it is still – you can also give it a light cleaning to remove any dirt or debris.
4. Fix Coil Fins
The coil fins on the evaporator and condenser coils can easily bend over time, and this can reduce airflow through the coil which will stop the unit from working efficiently. The coil fins can actually be quite easy to fix – all you need to do is gently insert a dinner knife (with a rounded edge) to realign and straighten out the fins.
5. Clean The Unit
Finally, it is good practice to clean the exterior of the unit on a regular basis as this can stop the damage from occurring which would require further maintenance and possibly calling out a professional. Shut off power to the unit and then gently wash the exterior of the unit and use a vacuum to clean the coil fins – be careful to avoid bending or crushing the fins.
Chat to In The Zone – Aircon Maintenance Experts – Today!
These are the five main steps that you need to take to maintain your air conditioning unit. It is important that you keep your unit maintained and working properly so that it works to its full capacity when you need it most. This will help to keep your home at a cool temperature even during the warmer days of the year. When you professional advice, parts of service, get in touch In The Zone!
Also Read Now: 5 TOP POOL MAINTENANCE TIPS FOR A YEAR-ROUND SPARKLING POOL