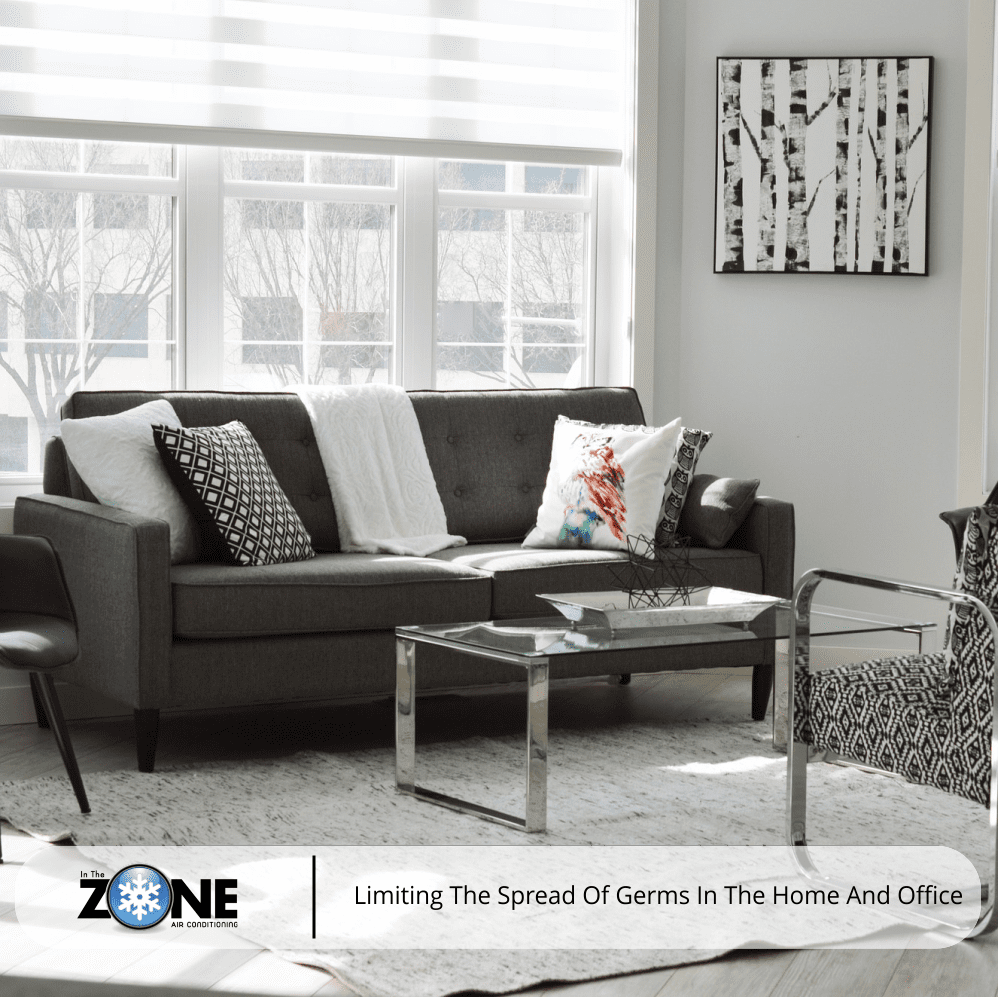 23 Apr

Limiting the Spread of Germs in the Home & Office

With the coronavirus outbreak, hygiene and health are at the front of everybody's minds. Even when given the all-clear to return to our places of work, we are all wondering how we can ensure our safety and prevent infection.
The Importance of Good Hygiene Practices
The good news at this point is that the coronavirus is not airborne, so we can control infection by washing our hands, maintaining social distancing and keeping everything we touch in a clean and sanitized state. There is no fear of the virus spreading through HVAC systems, but this doesn't mean that we should neglect the cleanliness and hygiene of our air conditioning systems. Other germs can spread through the air conditioning, so a rigorous cleaning regimen should be maintained.
Now Read 5 REASONS TO CHOOSE IN THE ZONE FOR YOUR HVAC NEEDS
In order to prevent any bacteria, fungal spores and viruses being spread via your air conditioning system, you need to take a dual approach: on the one hand, you need to sanitise the office or home itself. On the other, you need to keep the air conditioning system clean.
Regularly clean your home or office with high-quality detergents to ensure that mould, mildew and other allergens and germs are removed. You can prevent the further growth of these pathogens by addressing sources of moisture in the building (to prevent mould) and observing strict and regular protocols with regard to the cleaning of surfaces, objects and hands (to prevent the spread of bacteria and viruses).
When it comes to the air conditioning, clean your units regularly and schedule routine maintenance by a professional HVAC servicing company. The units should be cleaned and filters changed every few months.
It's important to also be careful with the temperature settings of your HVAC too. Certain viruses, for example, only become active in the body at low temperatures – this is why colds and flu are associated with winter. So be careful not to let your air conditioner run on too low a setting. It's tempting when the weather outside is hot, but the lower temperature can compromise your immune system to a certain extent.
Reach Out to In the Zone with Your HVAC Queries
In The Zone is a supplier and servicer of top quality air conditioning and pool heating equipment. Contact us for more information.